Keep Pests Out with Expert
Extermination and Pest Control
Serving Meigs, Jackson, Gallia, & Vinton County, OH, & Mason County, WV

Termites

Termites

Termites destroy homes by eating away the wooden beams that support the structure. Termite damage can be costly, and it is best to know the signs for effective control.

ROACHES

ROACHES

Roaches easily enter homes and contaminate them quickly. If you find a roach problem in your Bidwell-area home, seek pest treatment immediately.

INSECT CONTROL

INSECT CONTROL

Ants, bees, stink bugs, and other insects can cause discomfort and a great nuisance in your home or business. Find effective pest control to remove these insects from your property.

RODENT CONTROL

RODENT CONTROL

Mice, rats, and other rodents and animals can ruin homes and leave behind feces and other contaminants. Face the problem head-on with professional rodent control.
Oak Grove Termite & Pest Control Provides Effective Insect Control
Oak Grove Termite & Pest Control offers pest control for various insects. Whether stink bugs have moved in, or you have an infestation of bees in your yard in Bidwell, OH, or the surrounding areas, trust our exterminators to solve the problem quickly and professionally. We have experience with the following insects:
We have experience with the following insects:
Trust our team to effectively rid your home of pests and keep them away. Call Oak Grove Termite & Pest Control in Bidwell, OH, today at
(740) 446-2801
for an estimate on pest control, termite treatments, and more in Gallia County. We provide pest control for residential and commercial clients.
Did You Know Weeds Can be a Pest? We Offer Invasive Weed Control
Weeds can quickly take over your fence row or parking lot, causing many problems. When you have invasive weeds decreasing your business's curb appeal or overtaking your farm, call on Oak Grove Termite & Pest Control right away. Our exterminators offer expert weed control to keep overgrown plants and unwanted weeds at bay. We can treat fence lines, parking areas, and other sections of your farm or commercial space that are over-run with weeds.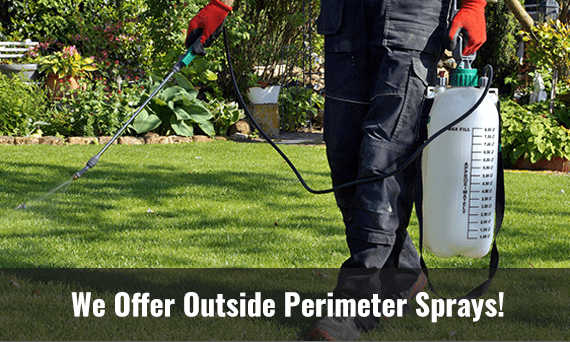 Real Estate Transactions in Gallia County and the Surrounding Areas
Buying or selling a home or structure or just want to refinance? You will most likely need a Wood Destroying Insect (WDI) Inspection accompanied by a NPMA-33 Report stating the results for your financial lender. Oak Grove Termite & Pest Control is state certified and licensed to provide these inspections. Give us a call at
(740) 446-2801
– we can help!
Termite Pretreatment for New Constructions in Gallia County
Considering building a new structure in Gallia County, OH, or the surrounding areas? You should also consider a termite soil pretreatment. Stop them before they get started – give us a call at Oak Grove. We can help.
Contact Oak Grove Termite & Pest Control for Maintenance Plans
If you find ants in your home every summer, or must constantly battle with stink bugs flying through your business, contact Oak Grove Termite & Pest Control. We offer various maintenance plans to keep your space protected from pests, including:
Contact us today to learn more about our maintenance plans and which will best suit your lifestyle. From termite treatment, to weed control, we can keep your home or business looking great and staying safe year-round. Located in Bidwell, OH, we proudly serve residential and commercial clients in Gallia County, OH; Jackson County, OH; Mason County, WV; Meigs County, OH; and the surrounding areas.